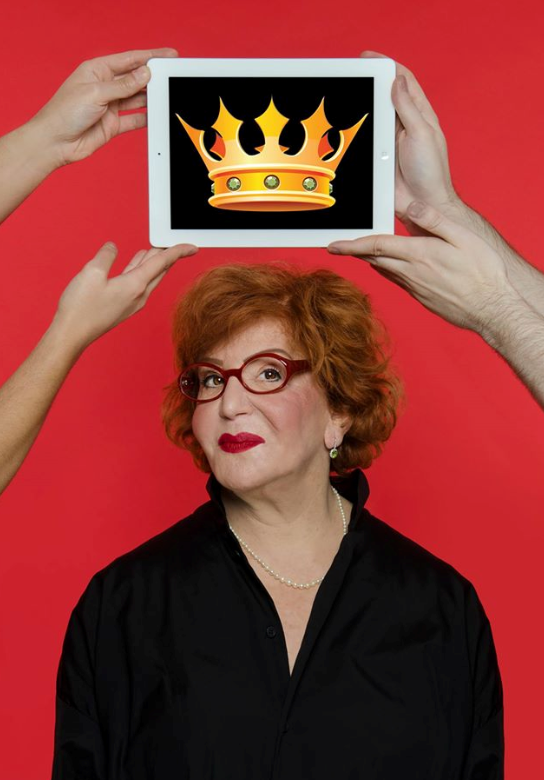 Photo: Andrew Werner
Some of my most fond memories are the days where I would come home from school and watch daytime television. I'd start off by watching soaps like Days of Our Lives, then as the afternoon progressed, I'd immerse myself into daytime talk shows. This was a simpler time, which predates the internet (you do the math)!  Daytime talk provided an arena for debate, education and hours of entertainment with unusual guests and celebrities. The Sally Jessy Raphael Show, later shortened to Sally, was the first to challenge Phil Donahue's rule over the daytime talk world.
Sally known for her trademark red glasses, aired from 1983-2002. She was soft spoken and relatable, but would also ask the tough questions. The landscape of television has changed dramatically over the years and I will always hold those afternoons with Sally close to my heart. Since I can't go back in time, I thought it would be fun to track Sally down and pick her brain about the good old days, what she's up to now and more…
Sally, in preparing for this interview, I jumped on YouTube to watch clips of your show. It made me really appreciate and miss daytime talk shows. There was an intimacy about them that you really can't find these days. Is there anything on air you feel comes close?
No. I honestly don't see any intimacy on daytime TV now. It's all filled with gimmicks and trying to be fun. On that note, I do love Wendy Williams. She is fun and was very gracious when I was on her show a few years ago.
Talk shows, did just that…they invoked thought and conversation into American homes – was it your goal to encourage dialog and social change?
Absolutely. We wanted to get people talking about issues that no one had ever talked about before, and I feel that we reached that goal – whether it was teen pregnancy, religion, being transgender, adultery or even female impersonators. I'm very proud of the issue-oriented shows we did back in the day. Well, most of them!
In 1989, you won the Emmy for Outstanding Talk Show. What does it feel like beating Oprah?
Well the Oprah we all know & love today was not that Oprah back in 1989. She had only been on the air for a few years, and we all knew (including Phil) that she was going to be a major force in American culture, but Phil & I were already the old pros at that point. So I was elated and extremely grateful for the honor, but I wasn't thinking about it in terms of "beating Oprah"!
Be honest, who was your best guest and worst guest?
By far, my best guest was Audrey Hepburn. She appeared on our show only a few months before she passed and was grace personified. When you look at some of the worst guests, well of course, there were some loud-mouthed teens, domineering husbands, racists, etc. But celebrity-wise, it would have to be Woody Allen. He flat out smelled. Maybe I shouldn't say that?
As more and more talk shows flooded the air waves in the 1990's and topics became more sensational, did it bother you?
Yes it did bother me, but we all fell victim to it to keep our shows on the air – and as you know, sometimes you have to do whatever it takes to stay afloat in this business and keep the hundreds of employees on your staff working.
If you were to jump back into the interview seat today, who would you want to interview and why?
Since she is running for President now, and I feel like she's got a good shot at winning, I'd have to say Hillary. #Hillary2016 !!!
I know you love watching RuPaul's Drag Race, what else do you enjoy watching?
I do love my drag queens, hunty! But I also love CBS Sunday Morning…that is still one of the best shows on TV now. And of course I also enjoy Scandal, Girls, Downton Abbey, Orange Is The New Black – there are so many! Clever writing is key!
If you were on The Real Housewives, what city would you choose and what would be your tag line?
Well first of all, I would never appear on one of those shows. I know it's America's guilty pleasure, but they're garbage. Instead, I would rather start my own show in the little town where I have a house in upstate New York called Pawling. And our tagline would be "These Housewives are truly A-Pawling". : )
Being that it is Pride month, what would you like to say to your LGBTQ fans?
I'd say "You've come a long way baby!" Especially in the last few years!! I was just talking about how far trans issues have come recently, and I have to credit social media and the Internet in general. I'd also say thank you to all of the fans who still care about what I have to say on Twitter! (@sjraphael, thank you very much!, lol). I'm also on Facebook https://www.facebook.com/TheSallyJessyRaphael 😉
I loved your web series Sally Rides, what do you have planned next?
Well, it was Sally JESSY Rides, so there's that, lol. Planned next? Well, I'm about to go out to dinner. After that it's anyone's guess. At my age you don't plan TOO far ahead! haha.
Being that you are a legendary Emmy winning journalist, I'm am honored but nervous interviewing you. How'd I do?
Meh. Just kidding – you did fantastic… all bases were covered and you didn't ask me about red glasses. Good boy! Thank you for the interview. XO
No, thank you! Thank you for making a dream come true.  XOXO, back at ya!